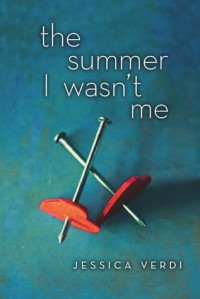 This gorgeous book is the first (and only) I won at a giveaway – courtesy of the lovely Lisa over at Bookshelf Fantasies, who went above and beyond and got me the book despite the fact that the publisher wouldn't ship outside of the US (thankyouthankyouthankyou). It's so pretty and looks so freaking good on my shelf, you guys!
I was excited to read this as the story sounded so interesting, and we definitely need more YA books handling tough subjects and shedding light on important issues (yeah, because "gay camps" are actually a thing, if you can believe it). And though the subject was handled well, I don't know… This is one of those hard ones to review for me.
The thing is, I really liked this book. It kept me hooked, and entertained. I really liked the writing, it flowed really well. And though I liked how the author handled the central theme without a fuss and straight on, there were other aspects that needed a different layer of seriousness. In the end. it was written like a light read while handling really big topics. I don't want to get into spoilers but there were certain aspects of the camp that could/should have brought the book to a whole new level – yet didn't.
The story was good, original, important. The writing was very pleasant. But it was divided between light and dark without fully falling into either, and that, for me, didn't work. It lacked depth. That being said, though it wasn't all it could have been, it was still highly enjoyable and I will definitely be reading more by the author.